---
Flight Instructor Refresher Clinic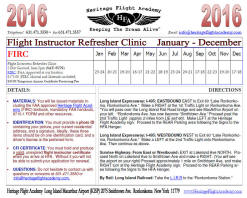 2016 FIRC Schedule
FAA APPROVED FIRC: Heritage Flight Academy located on Long Island New York has developed an FAA Approved Training Course Outline (TCO) for Certified Flight Instructors seeking to renew their Flight Instructor Certificates. To learn more about the procedure and process of renewing your CFI's we encourage you to take a look at our TOP TEN FIRC FAQ.
COST: The course FEE is $195 which includes the two-day CFI renewal clinic, the approved HFA Flight Instructor Refresher Clinic Manual along with all the mandatory FAA Handouts. We're certain that our FIRC course curriculum, lecturers and PowerPoint™ presentations will exceed your expectations!
---
IN-HOUSE FAA CERTIFICATION: HFA enjoys FAA authorization to issue your renewed CFI certificate on the spot at the completion of the clinic! Not being required to travel to your local FAA Flight District Office to receive a temporary certificate will save you considerable time and effort!
The nominal fee of $30.00 is attached to this optional service.
---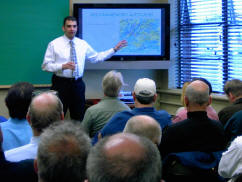 THE MONTHLY FIRC: Our weekend FIRC: Flight Instructor Refresher Clinic is held usually the third weekend of every month and meets the FAA's mandate for the renewal of your expiring CFI certificate. To sign up for the Clinic call us at 631/471.3550. You can also reserve a place in the clinic by sending us an e-mail at: info@heritageflightacademy.com
---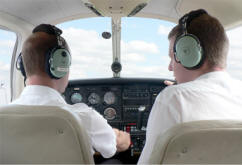 DON'T EXPIRE! Teaching people to fly is one of the most rewarding activities in aviation. It's up to you as an instructor and mentor to stay up to date on all the necessary instructional information so you can pass it along to your students.
". . . a good instructor is always learning too . . . !" - AOPA.
---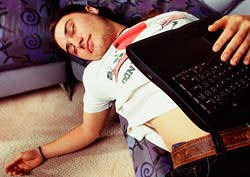 ON-LINE vs ON-SITE: How you renew your CFI is up to you. Many of our students prefer the traditional approach of interacting with real people when they refresh their CFI's as opposed to the renewal products available on-line.
"You can spend countless hours bleary eyed in front of a computer screen with an on-line renewal course or you can involve yourself in lively discussion, networking with fellow flight instructors, and enjoying knowledgeable presenters at the HFA facility." - John Kolmos, Certified Flight Instructor.
---
Topics and Discussions:
The following subject modules fulfill the requirements for the Nationally Scheduled FAA-Approved Industry-Conducted Flight Instructor Refresher Clinics, FIRC:
FAA/Industry Training Standards (FITS)
Scenario Based Training Methods (SBT)
Collision Avoidance Procedures
Flight Safety/System Safety
Teaching in Technologically Advanced Aircraft (TAA)
FAA Regulations: Understanding the "Sport Pilot Rule"
Changes to the (NAS) National Airspace System
Endorsements and Authorizations
The Review and or Introduction to the Integrated Airman Certification On-line Computer Application (IACRA)
Teaching 'Real World' Risk Management
Recurrent/Transition Training
Flight Information Publications
New Weather Analysis Products & Improved Weather Planning
---
Two Day FAA Approved 16 Hour Clinic: $195.00
---
Click on the following links for additional information: